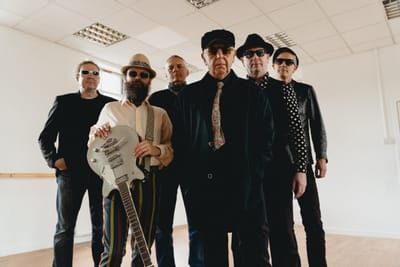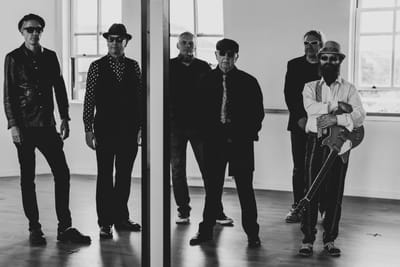 The Primevals started in 1983; Michael Rooney had a record stall and had some friends who played in bands. They soon recorded their first single Where Are You? On the local Raucous label .New Rose Records in Paris, then released 'Eternal Hotfire' mini lp in 1984 and their relationship continued over the next three years releasing the albums 'Soundhole' and 'Live a Little'. These records were produced by Richard Mazda who had also worked with the Scientists and the Fleshtones.

The Primevals toured extensively in Europe over this period and played some great shows with the Cramps on their 'Date with Elvis' tour in 1986. Next was a live album 'Neon Oven' recorded 1988 in Paris album .Over this period The Primevals recorded 5 sessions for BBC Radio 1 including a John Peel session which was released on 12" single they also recorded tribute covers for various compilation releases dedicated to Captain Beefheart, Suicide and The Byrds

The fifth album called 'Dig' and released in 1990. The band worked with Jack Endino on this who had worked with Mudhoney and Nirvana.. The band toured extensively in Germany soon after and then ceased to play live between 1992-1996. Each member spent the time on other musical endeavours.

The Primevals began playing under their name again occasionally and in 2005 a 2cd compilation of New Rose material plus 4 unreleased songs entitled 'On the Red Eye' was released. New recordings in 2007 came next on cd on their own Triple Wide imprint entitled 'There Is No Other Life…And This Is It".

The Primevals released 'Disinhibitor" 2010.and toured extensively again. They released the lp 'Heavy War' in 2012 on Beast Records and a split 45 from the Jeffrey Lee Pierce Sessions entitled 'Girl It's Me" the following year.

In 2014 they released 'Tales of Endless Bliss' on Closer Records.

In 2015 saw the the enhanced re-issues of 'Eternal Hotfire' and 'Soundhole 'on cd on LTM record label. The song 'Spiritual' was used in the Sky TV Series 'Tin Star' (series 3).

In July 2017 The Primevals released on their own label 'Dislocation' on lp/cd and continued with shows in UK, France and Italy. An ep on 'Ghost Highway Recordings' from Madrid. Entitled 'So Extra' ep. Was released in July 2018

The lp 'Second Nature' was released in May 2020 on their own Triple Wide label. 12 track vinyl and 16 track cd.

Their song "Spiritual" was used for the Sky series "Tin Star" in 2020

'New Trip' on cd/lp on Triple Wide released July 2021 with some great reviews in Shindig and Vive le Rock.

The Primevals are recording some new music which will be with you soon we hope!